Peerless-AV® Launches Truly Universal Outdoor Digital Menu Boards
Increase drive-thru sales and promote order efficiency with Peerless-AV's new, truly universal Outdoor Digital Menu Boards. The KOF555-1/2/3 models are interchangeable for leading 55″ outdoor display brands, and can support from one to three displays, to offer maximum flexibility at the best value.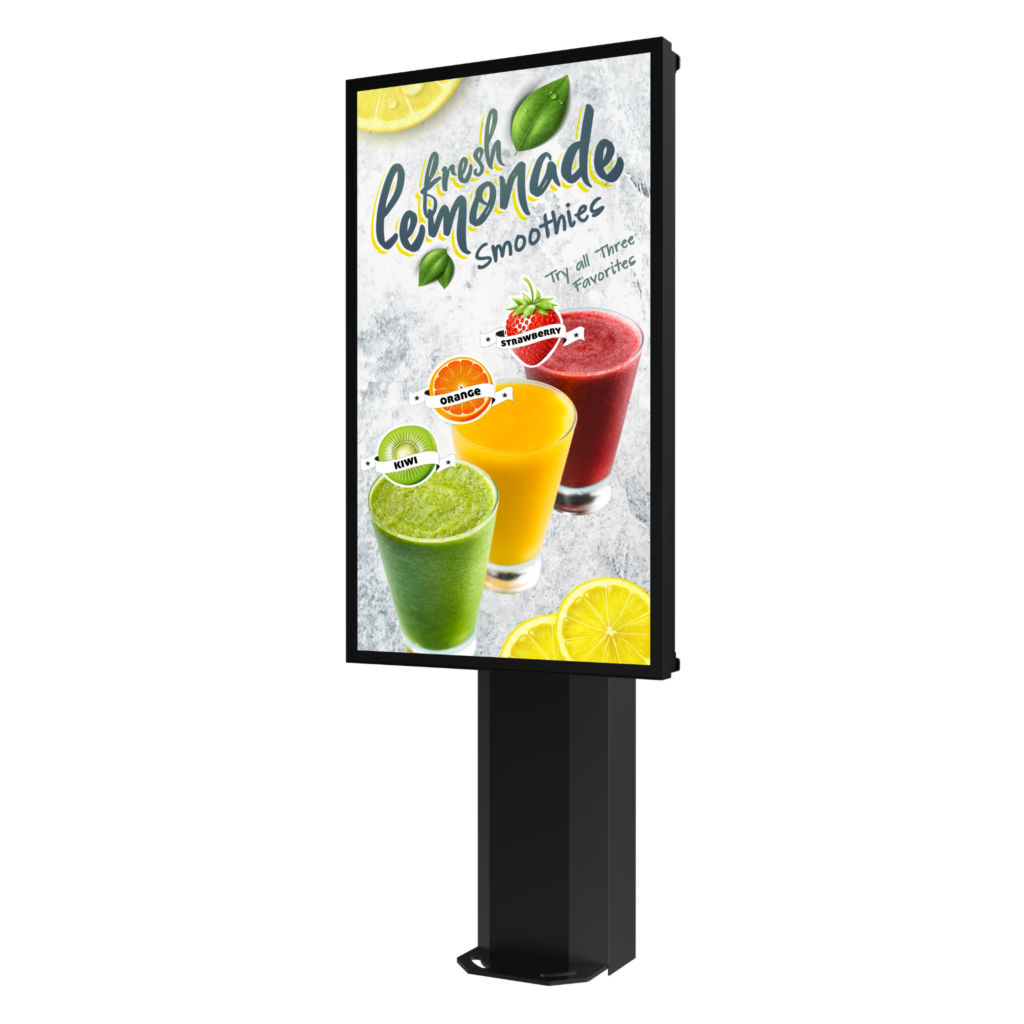 These all-weather rated, outdoor units are UL 48 certified and offer a low operating cost, modular design, easy, two-man installation process, as well as ease of use, eye-catching text, animation, and video that will engage customers and customers like never before. Designed to simplify and elevate the drive-thru experience, the all-new Outdoor Digital Menu Boards can be updated in real-time, even remotely! The universal Outdoor Digital Menu Boards provide an elegant, minimalist design that enhances drive-thru aesthetics, eliminating outdated, static menu content.
Whether you prefer LG or Peerless-AV®outdoor-rated digital signage displays, we have the right enclosures for you. Our digital signage experts are here to help you create a fully integrated drive-thru solution that fits your needs.
Compatible 55″ outdoor digital signage display models include:
Peerless-AV Xtreme™ High Bright Outdoor Displays (XHB554)*
LG XE4F-M Series High Brightness Outdoor Displays (55XE4F-M)
*Mount Brackets (KOF-OPT-ELECTRICAL) provided with orders of XHB554
Along with being able to choose the preferred display brand, customers can truly customize their Outdoor Digital Menu Board with a variety of options to create an ideal digital drive-thru solution. Options include:
Speaker/Microphone Kit
Retrofits to the Outdoor Digital Menu Board for quick and easy installation; Includes (2) Panasonic WX-CS560 speakers (one used as the speaker and the second as the microphone), a durably designed outdoor cabinet, and all the necessary fasteners
Model Number: KOF-OPT-SPK
Media Player Storage Fan
When installed within the ODMB pedestal, the fan exhausts heat and helps to manage the internal temperature
Model Number: KOF-OPT-FAN
Please note, when used in conjunction with the Internal Media Storage Shelf (KOF-OPT-SHELF), the Media Player Storage Fan's deflector plate helps to direct any water droplets toward the back door of the ODBM unit.
Internal Media Player Shelf
Offers an ideal area to set, or conveniently strap, a media player and electronics within the ODMB pedestal; Each KOF555-1/2/3 ODMB model can fit up to three shelves for additional storage
Model Number: KOF-OPT-SHELF
Please note, when a media player is installed on the KOF-OPT-SHELF within the ODMB pedestal, you must integrate the Media Player Storage Fan (KOF-OPT-FAN) to exhaust heat and manage internal temperature.
Power Distribution Unit
Product evaluated for use with UL-48 certified KOF555-1/2/3 outdoor digital menu board enclosures, eliminating the need for expensive 3rd party onsite certification
Model Number: KOF-OPT-ELECTRICAL
---
The Outdoor Digital Menu Boards (KOF555-1/2/3) are available through Peerless-AV direct sales representatives and authorized distribution networks. For more product details, please visit: www.peerless-av.com/products/kof555
Ready to place your order? Contact your Peerless-AV Sales Representative today!
Click here to view the official press release.
---